"Certainly there's been no productivity slumps. In fact, I would say that the new tools that we have – [Sharepoint] and Microsoft Teams – have enabled us to be much more efficient at what we do. Also, the access to information has been so much more readily available for us, I almost feel like we're discovering opportunities and potential risks that were going under the radar before."
- Matt Griffin COO The nature of work has changed.
Employees expect to work securely from anywhere, on any device, and they put a high premium on work that enriches and fulfills them. When their productivity tools enhance the quality and effectiveness of their work experience, they're happier, more valuable, and more likely to stay. Companies need to provide that empowerment, but they also need to protect vital IT assets. It's a fundamental operational change for anyone.
With Microsoft solutions, you can improve employee productivity and satisfaction, and create more seamless communication and collaboration across locations and platforms while maintaining the security and integrity of systems and data.
As a Microsoft Partner, CisCom Solutions can guide you through choosing the right simple, secure solutions that help you transform your business.

Top challenges for today's businesses:
Enable Remote Work
The world has changed rapidly, and businesses of all sizes need easier, secure ways to work and serve customers from almost anywhere.
Support Growth
You need solutions that can extend easily and affordably as your business changes and grows, without requiring significant up-front investment.
Reduce Costs & Complexity
As you adjust to an uncertain economy and marketplace in an ever-changing world, you need ways to work more efficiently without adding expensive, complicated technology.
Strengthen Security
Small businesses are frequent targets for cybercriminals and protecting business data and sensitive information becomes more challenging when people work remotely.
What will you achieve in the cloud?
Be more productive almost anywhere
with real-time collaboration.
Work with people almost anywhere using cloud-based Office apps.

Stay in touch with videoconferencing, chat, and calling as




well as email with Microsoft Teams.
Help protect your business information
with technology you can trust.
Safeguard user identities by enabling multi-factor authentication.

Control how your business information is accessed with security groups and custom permissions.

Create password policies that require users to reset their passwords after a specified number of days.
Optimize costs & management
with a single, secure solution.
Replace standalone software with a single, fully-managed platform that includes Office apps and real-time collaboration and videoconferencing.

Start with a plan that's right for your business and add more capabilities simply and affordably as needed.
Ask us how the right subscription can maximize your productivity, enable enhanced cyberthreat protection, and secure your company assets.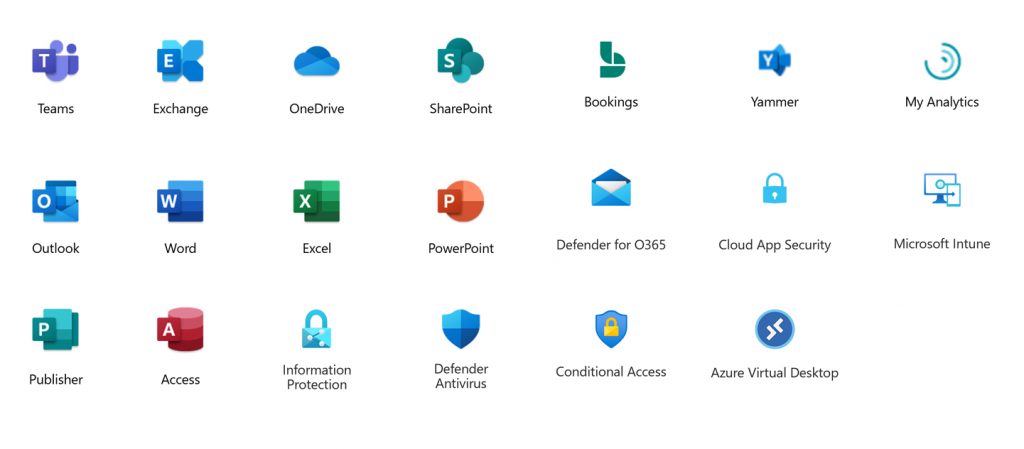 You can rest easy when you put your IT support needs in our hands. Contact us today for more information.